Community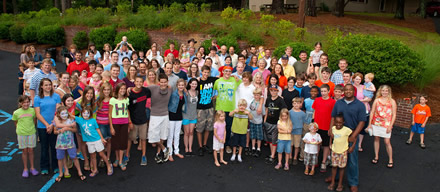 We are seeking to be a church community that exists for the sake of service, as we build one another up in Christ in the church and live sacrifically on behalf of the world.
Covenant renewal worship services are held each Lord's Day at 10:00 AM. Sunday School and choir meet at 9:00 AM, but take a break for summer. On the second Sunday of each month, we have a fellowship lunch together.
Flowing out of covenant renewal worship, we provide several opportunities for continuing the life of discipleship, community, and mission throughout the week. We gather together as an integrated body each Lord's Day as God's royal priesthood; we then disperse for service and work in the world the rest of the week. But we also desire to build on the Lord's Day gathering with other times of specialized instruction and fellowship. Some major, recurring events in the life of our church include "Second Sunday" lunches together after worship and Sunday School, monthly gatherings for women, "Trinity Tavern Thursday" each month for men, home fellowship groups spread throughout the city,and Bible studies for college students/young adults and youth. But we are especially known for our annual celebrations and observances linked to the historic church calendar -- our Lessons and Carols service during Advent, our Shrove Tuesday Pancake Feast before Lent, our Ash Wednesday "Service of Ashes," our Maundy Thursday Feast and our Good Friday "Tenebrae Service" during "Holy Week," our TrinityFest on Trinity Sunday, and our All Saints Festival every November. We'd love to have you join us for one of these great events! Check our calendar for upcoming events.
TPC desires to minister to people in all sorts of life situations -- young and old, married and single, rich and poor, and so forth. We believe the church should embrace and reach out to humanity in all its diversity, drawing all sorts of folks together into a united community of faith through the gospel. We also believe the family is a basic building block in God's created order, and thus we seek to strengthen the family. This includes teaching each member of the family his or her biblical, covenantal responsibilities. It means especially training husbands and fathers to take responsibility for their homes, enabling and equipping them to lead their families as Christ leads the church. Some ministries in our church focus on particular segments of the church body (e.g., youth and college Bible studies), but we especially encourage whole-family events and ministries. We want families to be strengthened, as they worship together, serve together, show mercy together, work together, and enjoy God's world together. We want our households to be places of grace, where the life of the kingdom is manifested and extended on a daily basis.
To promote the development of mature, biblically faithful family life and culture, we offer the following resources for your edification:
"God is not Enough: The Story of Christian Community" (by Rich Lusk)
"Community and the New Tribalism" (by Rich Lusk)
"Questions for Heads of Households" (by Stewart Jordan; pdf)